From the Series: THE LORD, THE LOVER, THE LIFE COACH
by Dr. Merle Ray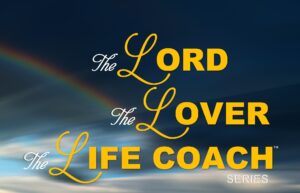 Thirty minutes.
That's how long it took me to conceive. But it took me 30 years to believe what I received. When the Spirit of God spoke to my heart, I was driving home from work. Listening to love songs by Bebe and CeCe Winans, God, the Lover said to me,
"I wish you would let me love on you like that!"
After the foreplay was over, and a metaphorical nine months of carrying REAL seed, there it was – God's brilliant birthing and my breakthrough to greater!
GREATER LIFE. GREATER LOVE. GREATER ADVENTURE.
Especially for adult women AND the men that love them, this is an Overview and Exploration tool and coaching workbook designed to guide you through concepts that I have used to become spiritually pregnant and to conceive every single time. Whether you are wanting to birth: a baby, a relationship, a business, or a book, God doesn't give accidental blessings. His blessings are all about PURPOSE. During this time of unprecedented trial, challenge, and change, there's still no better time than the present to conceive God's brilliant plan and purpose for your life!
Single individuals and married couples too will want to explore each exercise in this workbook!
Watch what happens as you yield yourself to God just one-hour a day in this unique coaching book!
Seek God. Love His Word. Get Real.
Buy this transformation experience course today!
1) The Online Book
All Lessons in the Book and any new lessons that get added. Complete your journey daily, weekly, or monthly to elevate your God-given brilliance by building your faith!
2) Form-fillable Downloads
Save the files directly to your device or favorite location on your computer. Type right into your online book. These downloads are yours forever!
3) Access to Private Online Community Forum
Post your thoughts, answers, or testimonies to share with others whenever you like!
4) Free Paperback version
BONUS GIFT! Share with a friend or keep it to journal your private notes!
***This is an online service / electronic product download. Therefore, all purchases are non-refundable.***
Contact me if you are interested in working live together with me as your supportive co-partner during the book (coaching fee required).
Don't Sleep With My Husband

Plan the Best Dates Ever!