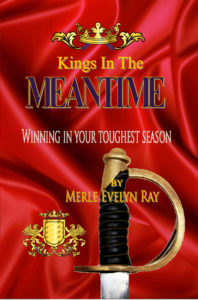 Meantime!
Winning in Your Toughest Season
by Merle Ray
"They don't call it "mean" for nothing.
Meantime is the period of time between directives and destiny, promise and fulfillment, contract and deliverables! Let's just say meantime is "Transition." Dr. Lance Wallnau, Noted Christian leadership and change agent, defines transition as, "When I'm going through hell, but I think God is in it" (Wallnau, The 7 Mountain Mandate, Vol 1, 2, 3). Herein lies the key to my getting through my "mean time."
When you're going through hell, you can't help but wonder whether or not God is in it. I came to realize that I was going through hell because I was an aspiring 'king.' This book is dedicated to other aspiring "kings." Today, we've got kings of comedy, kings of culture, kings of pop, hip-hop, and every other arena. These are people who have become widely known in areas of influence. If you're into church, you've probably heard the term, "kings, priests, and prophets." Kings, as the leadership change agents define them, are the majority of the Body of Christ who are not called to work full-time inside the four walls of a church-building.
Kings, in my opinion, are those of us who are still trying to experience the "promised land." We are believers in Christ who are leaders on our jobs, leaders in our businesses, or we are aspiring to become leaders. We want to realize our dreams: have them, touch them, and watch them grow to become present realities. No longer do we want to watch as others pursue their dreams, sometimes at our expense.
We've wished for experienced leaders as fathers to help us achieve our dreams. Although we have many teachers, we do not have many fathers in the faith (1 Corinthians 4:14-16). But God knows and He sees. If He can raise up an Egyptian Pharaoh to father a Hebrew boy called Moses, surely He can raise up great spiritual fathers to this generation.
Do not despair; we are still Kings in the meantime.
–Merle Ray, Author
In this book, you'll walk through your own Godly Transformation using the keys that God gave in the book.
Give yourself an-hour with God in this one-hour a day coaching book and watch what happens!
WE HELP YOU MAKE IT HAPPEN WITH YOUR OWN TRANSFORMATION EXPERIENCE!
Seek God. Love His Word. Get Real.
Buy this transformation experience course today!
1) The Online Book
All Lessons in the Book and any new lessons that get added. Complete your journey daily, weekly, or monthly to elevate your God-given brilliance by building your faith!
2) Form-fillable Downloads
Save the files directly to your device or favorite location on your computer. Type right into your online book. These downloads are yours forever!
3) Access to Private Online Community Forum
Post your thoughts, answers, or testimonies to share with others whenever you like!
4) Free Paperback version
BONUS GIFT! Share with a friend or keep it to journal your private notes!
***This is an online service / electronic product download. Therefore, all purchases are non-refundable.***
Contact me if you are interested in working live together with me as your supportive co-partner during the book (coaching fee required).
Meantime: Winning in Your Toughest Seasons©

Digging in to WHO you are being during your "Meantime" and making strategic changes will change your destiny! -Dr. Merle Ray